FULL SERVICE PIERCING AND BODY JEWELRY STUDIO
WELCOME!
NO SUBMERGING PIERCINGS UNDER WATER FOR AT LEAST 4 WEEKS! THIS INCLUDES RIVERS, LAKES, POOLS, ETC. SHOWERS ARE OK!
IF YOU ARE A MINOR:
15 AND UNDER – Ear lobe piercings only with accompanying parent or legal guardian (WITH PROOF OF LEGAL GUARDIANSHIP) presenting state issued picture ID and the child's ORIGINAL birth certificate. We will NOT pierce infants. We believe everyone has the right to choose how their body is modified. This includes piercing ear lobes. We will only pierce children who are able to verbally CONSENT to getting pierced. 
16-17 YEAR OLDS– All piercings (except nipples, genitals and implants) with accompanying parent or legal guardian (WITH PROOF OF LEGAL GUARDIANSHIP) and state issued picture ID for both with MATCHING LAST NAMES AND ADDRESSES. If EITHER/BOTH the last names or addresses are different you will also need to bring the minor's ORIGINAL birth certificate, 
Hello to all our beautifully modified brothers and sisters and to all of you who are curious about becoming so. Welcome and thank you for stopping by our little corner of the web.  We are all licensed piercing professionals. We are open seven days a week for all of your body piercing and fine jewelry needs.
Stop in to say hello to us and our rotation of the best guest piercers from around the country.
The CraigPokesU Studio is located at 4818 Lee Highway • Arlington, VA 22207
WALK-INS AND APPOINTMENTS WELCOME!

Studio Hours:
Monday: 12PM - 9PM
Tuesday: 12PM - 9PM
Wednesday: 12PM - 9PM
Thursday: 12PM - 9PM
Friday: 12PM - 9PM
Saturday: 10AM - 9PM (WALK-INS ONLY)
Sunday: 12PM - 6PM
WE ARE CASH ONLY.
ATM AVAILABLE IN STUDIO.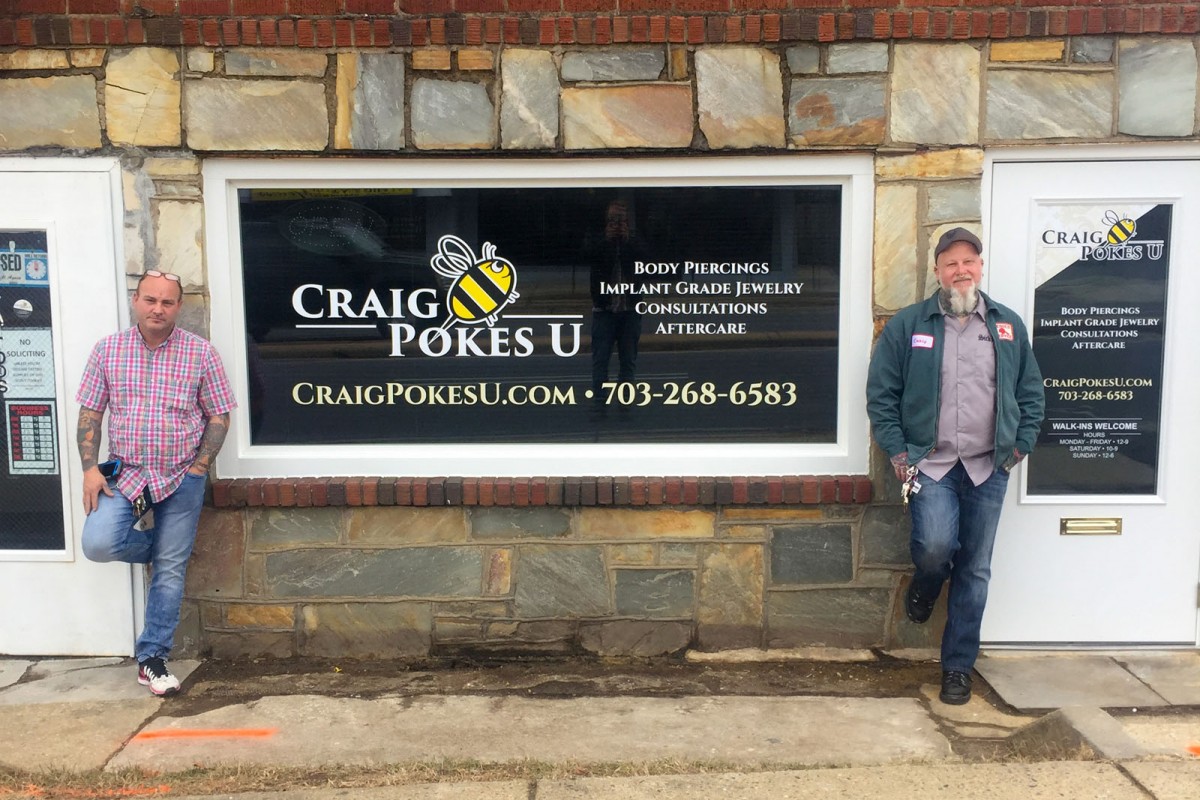 HOW DO I CHOOSE MY PIERCER?!
You have decided to have your body pierced and you are asking yourself, "I want it done now, so where do I go?" In this era of bloodborne diseases you MUST be very careful who you have perform your piercing!
Don't be misled into believing piercing is easy. It takes time and dedication to acquire the ability to correctly place and skillfully perform piercings. Piercers either serve an apprenticeship or are self-taught. Apprenticeships will generally last from 6 months to two years. Those who are self-taught will ideally have sought guidance from others in the field. Continued education is the hallmark of any conscientious piercer. It is perfectly acceptable and advisable to inquire about how long your piercer has been piercing, how they learned to pierce, and what they have done to keep their knowledge base current, i.e., courses on Anatomy, Aftercare, Aseptic Technique, etc.
Are the walls washed and the carpet vacuumed? Is the staff bathed and neat? Is the restroom kept clean and tidy? Ideally, studios should have 5 separate areas: the counter, waiting room, piercing room(s), bathroom, and a separate sterilization room.
In most cases a license to operate means that the studio meets minimum requirements and has passed some sort of inspection. To find out if your area has established standards and inspections, call your local Health Department. If a studio is operating unlicensed in an area where licenses are required, report them to your local health department or city business license division.
Look at their piercing photo portfolio. Are piercings placed to accent the anatomy or do they look awkward and poorly matched to the individual? If the portfolio features unusual looking placements, are there pictures of healed piercings, showing the actual viability of the placement?
A number of states have made it illegal to use a gun on body piercings and with good reason. Most ear guns can't be sterilized in an autoclave and therefore don't meet the criteria for APP piercers' use of sterile disposable equipment.
Use your instincts!!!
If you don't feel comfortable with the studio or the piercer you should leave. "I should have listened to my gut feeling" is something you should never have to say.
Don't act impulsively or be swayed by a low price. You generally get what you pay for (but some unskilled piercers charge plenty). Get referrals on a piercing shop/piercer from knowledgeable friends and/or the local health department.
At my body piercing and jewelry studio here in Arlington, Va., I follow ALL state and federal health and safety regulations. Both myself and my studio are fully licensed in the Commonwealth of Virginia. I ALWAYS have your health and well-being in mind before, during and after your piercing. This includes quality, implant grade jewelry as well as a clean and sterile environment.
See You On The Sharp End!
~ Craig